Description
SPECIFICATIONS
Model: Clutch
Model Number: Ki4556A2
Overall Length: 7.875"
Designer: Carlos Elstner
Opener: Flipper
Blade Style: Modified Drop Point
Blade Length: 3.375"
Blade Thickness: 0.12"
Blade Material: CPM-S35VN
Handle Length: 4.50"
Handle Material: Carbon Fiber, Titanium
Pocket Clip: Tip-Up
Weight: 3.12 oz.
Frame/Liner: Titanium
Color: Black
Clutch, designed by Carlos Elstner, is a modern flipper knife with wonderful action and a smooth, comfortable build. It boasts a titanium frame with a carbon fiber inlay on either side. The blade is made from CPM-S35VN stainless steel, which allows for relative ease of sharpening as well as great edge retention and toughness. It includes a titanium pocket clip for secure tip-up carry. Clutch has a wide range of uses, and the folding device can be effectively used with a variety of materials: food, textiles, sticks, etc.
A clutch win
I bought the micarta and carbon fiber both. They were on sale at about half price. They are attractive to look at, function perfectly, made with high quality materials, comfortable in the hand. Unfortunately they have been discontinued. Kizer at its best.
Very elegant
My only gripe with Kizer knives is lack of loctite on the screws - I always aplly it myself when knife arrives.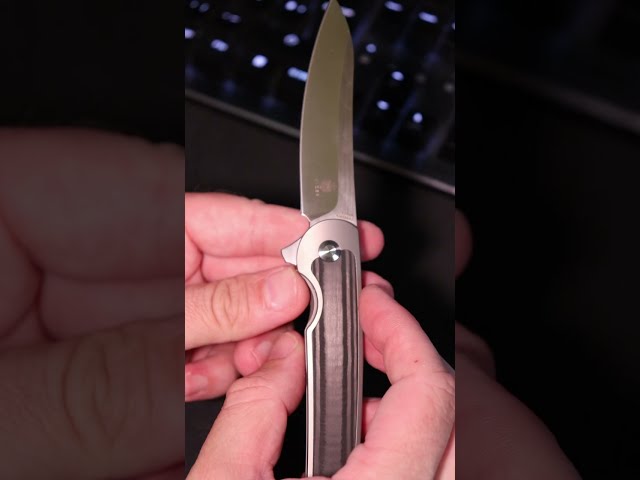 Satisfied so far
This knife is awesome for the sale price Kizer had it for. Great detent, no double clutch, and just smooth. Comfortable in the hand - at least in my hand. Very classy appearance. The spine of the blade looks thicker than .12 inches. It came pretty darn sharp. I might be able to get it a bit sharper, but certainly no need to touch it out of the box. I haven't used it that much yet, but it feels like it will last for years. Time will tell.
Smooth and Sweet!
Can't find a single reason not to buy this knif if you like the style. Very similar blade shape to an OKnife Drever--which is a good knife--but this is several steps up in terms of finish, materials and looks. I do wish there was jimping for the thumb.
Deployment is crisp, blade drops shut and Ti clip is deep and low profile. Carbon inserts are grippy, not polished smooth and I feel no hot spots in hand. Solid 5 stars for the sale price.