Description
Description
154CM Blade
The material of the Drop Bear is 154CM. 154CM Steel Blade delivers excellent edge retention, and corrosion resistance, and is suitable for heavy cutting applications. The top of the blade is designed to be non-slip, and the shape of the blade is also perfect.
Aluminum Handle
The handle material used is aluminum alloy. It is comfortable and neutral meaning amenable to any kind of grip. In addition, at the handle, we have a black holding clip.
Featured Design
A small hole is designed at the tail, which can be hung with a rope, which is convenient to carry.

Unique Lock Type. We designed an Clutch lock for this Drop Bear. It is our first Clutch lock knife in Kizer. The Clutch lock is designed at the handle, with a unique appearance and high safety in use.

A new type of crossbar locking system. It's not only a locking mechanism but a set of systems that for one purpose, the Action customized for you and you only. The Clutch lock system includes the Clutch bar, adjustable Gemini Spring system, and DED system.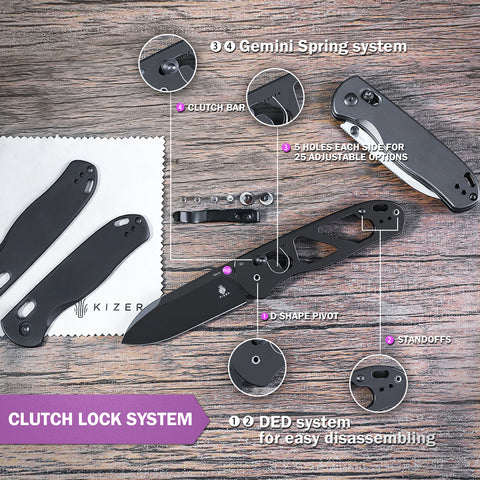 The Clutch bar is the lock bar that locks the knife and the one you pull to unlock the knife. 

The Gemini Spring system is designed with two omega springs and 5 holes on each side of the handle liners. That doesn't mean the Gemini Spring system has only 5 levels to adjust but five times five to be 25 customize options! You could pick the strongest level for the thumb side and the third level for the weaker index finger on the other side. Twins but on a different level that's why we call it the Gemini Spring system.

 The DED system is short for the D-shape easy disassembling system which is the most important part of the whole locking system since the easy disassembly simplifies the adjustment of the springs.
Specifications
Model: Drop Bear

Model Number: V3619C1

Overall Length: 7.15"/182mm

Designer: Azo

Opener: Thumb Stud

Blade Style: Drop Point

Blade Length: 2.97"/76mm

Blade Thickness: 0.11"/2.8mm

Blade Material: 154CM

Handle Length: 4.17"/106mm

Handle Material: Aluminum

Pocket Clip: Tip-Up

Weight: 3.68oz./104g

Color: Gunmetal
Kizer Drop Bear Clutch Lock Aluminum Gunmetal V3619C1 (2.97" Satin)
Excellent knife and lock
Very slicey and utilitarian blade shape, ideal EDC profile. The anodized aluminum resists scratches very well and provides enough grip for daily tasks.
The smoothness of the clutch lock is better than all but one of my Axis-lock Benchmades, and that's really saying something considering the price difference. Will be getting a premium edition Drop Bear whenever I can find one for sale!
I want to end by saying I used to be a USA made only knife collector (I own multiple of Benchmade, Spyderco, Emerson, Stryder, Medford, DPX) but I'm really glad I took a chance on Kizer. They're the only Chinese manufacturer I buy from - the consistent build quality and customer service just won me over. I've never handled a Kizer I didn't like, and I'm on my 13th purchase, with 2 more lined up as soon as the next release wave hits!
Keep it up Kizer!
cool knife fs
it is really just cool and good
Very nice knife, great price
I like it. It's a keeper for sure. Great action, nice blade and very sharp from factory.
Great product but I need replacement parts
excellent product, unfortunately I have the version with the aluminum plates, it ended up in the washing machine and (rightly) they got abraded, now I would like to replace them but I can't find the spare parts