Kizer Clutch Lock System
Have you ever tried an axis/crossbar type of lock? Did you feel hard to use it or just a bit too tight or loose for you? The spring tension of it is fun for some people to play with and yet hard for others just simply because the spring tension is not suitable for everyone. Did you feel the pain of the blade falling apart, the pain of two-sided screws getting spinning and can't taken it apart while trying to disassemble the knife to maintain the lock or change the scales?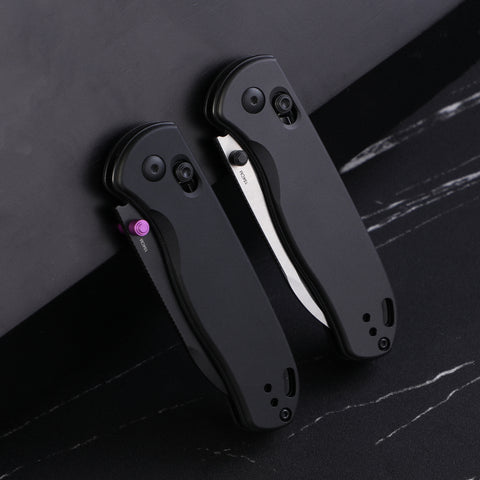 We are sure you did face that kind of problem many times with using them and we are here to present you with a solution.
We are introducing you the Kizer Clutch Lock, a new type of crossbar locking system.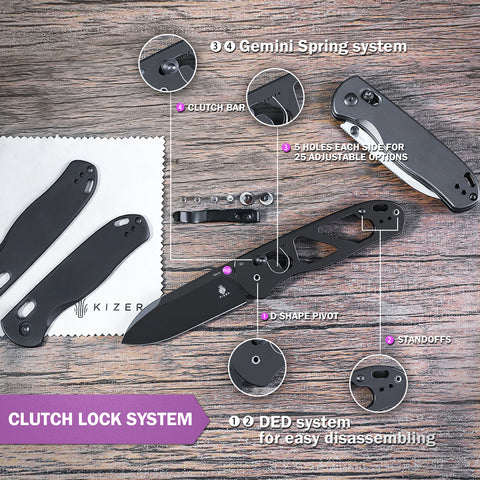 It's not only a locking mechanism but a set of systems that for one purpose, the Action customized for you and you only.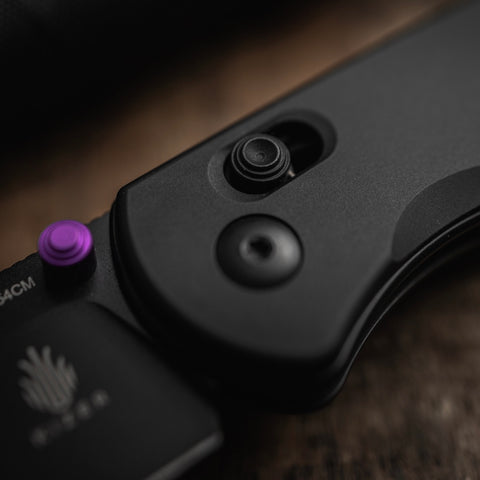 The Clutch lock system includes the Clutch bar, adjustable Gemini Spring system, and DED system.
The Clutch bar is the lock bar that locks the knife and the one you pull to unlock the knife.
The Gemini Spring system is designed with two omega springs and 5 holes on each side of the handle liners. That doesn't mean the Gemini Spring system has only 5 levels to adjust but five times five to be 25 customize options! You could pick the strongest level for the thumb side and the third level for the weaker index finger on the other side. Twins but on a different level that's why we call it the Gemini Spring system.
The DED system is short for the D-shape easy disassembling system which is the most important part of the whole locking system since the easy disassembly simplifies the adjustment of the springs.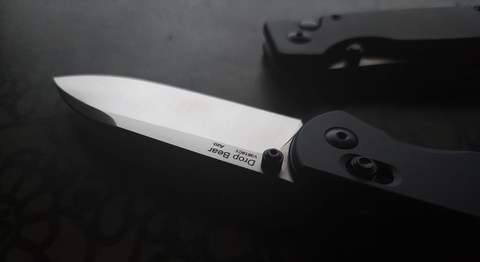 To achieve that, we make the pivot and two standoffs a two-side D shape little cylinder and D shape cutouts on the liners to hold it not spinning. Two standoff screws are hidden under the scales and holds the knife together, therefore, you don't have to take the whole knife apart to adjust the spring, instead, taking out the scales is all you need. Aside from the disassembling, it could also be very easy to put the knife back together without worrying about the blade centering problem, because the blade is locked to be centered by the D shape pivot.
Thus, all three parts together become the Clutch lock system for you to select your own gear level for the best action of your own.
Action, for you.
Kizer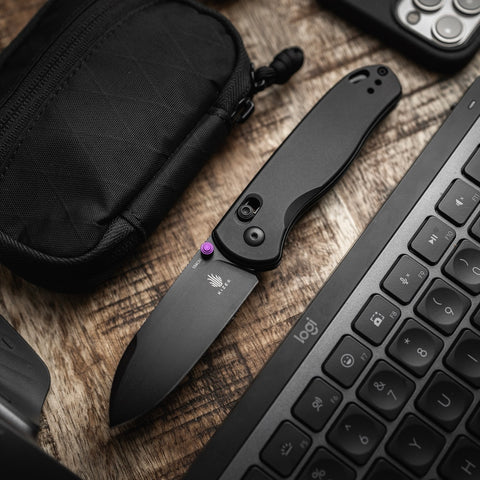 *Product in pics are Drop Bear, the first knife with Clutch lock system.